Fuzzy Butts offers your dog safety, comfort, cleanliness, and spacious play areas. Your dog will be pampered in our large individual suites including raised Kuranda beds. All areas are climate controlled and have multiple skylights to let in plenty of sunshine. Our doggie guests spend one on one time with our experienced staff 4 times a day. Daily exercise is included in our nightly rate. All suite boarding gives dogs their own private areas with no crates or cages. Little paws are safe with our smooth suite walls and no chain-link or open grate housing.
Check out time is 12 noon which is included, after that time, you will be charged another day.
Pick-up hours are:
Monday – Friday: 7:00am – 7:00pm
Saturday: 8:00am – 2:00pm
Sunday: 10:00am – 4:00pm
Drop off hours are:
Monday-Friday: 7:00am – 6:00pm
Saturday: 8:00am – 1:00pm
Sunday: 10:00am – 3:00pm
If interested please fill out our boarding reservation forms and email them to [email protected] along with vaccination records.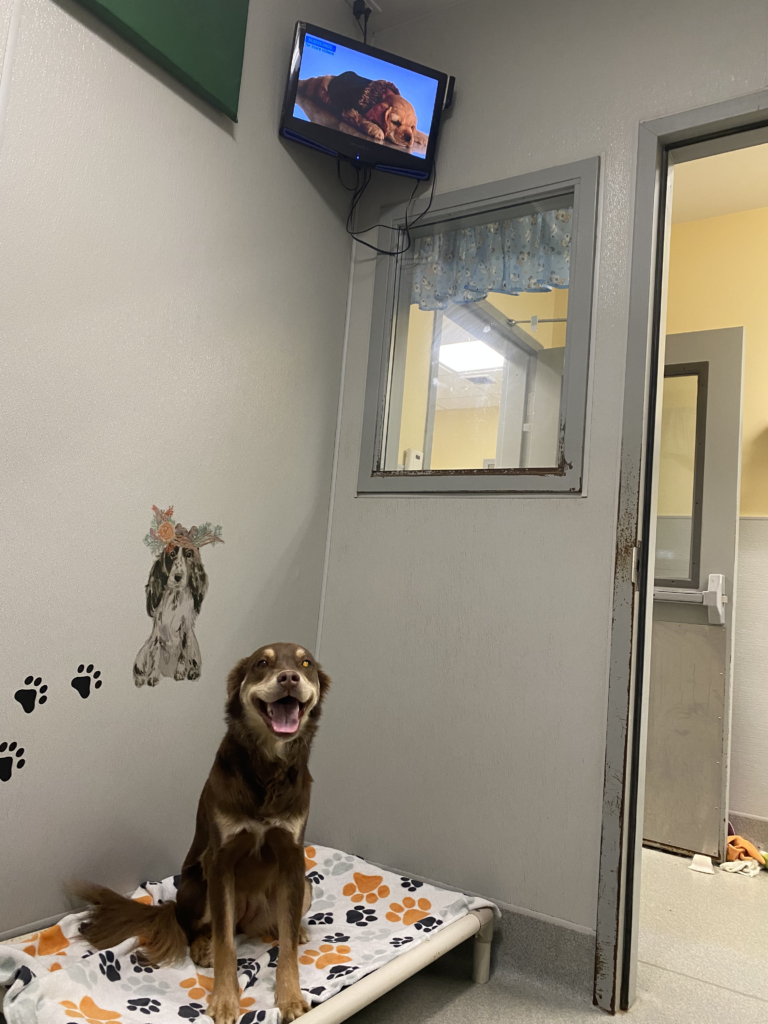 Pricing
Regular Boarding:
Private Suite: 4ft x 6ft with divider wall between dogs.
$64/day for first dog
$54/44 for the 2nd/3rd dog in same suite.
Deluxe Room Suite: 6ft x 8ft private room.
$84/day for first dog
$64/54 for 2nd/3rd dog in same suite.
All boarding includes 4 individual exercise/walk sessions or daycare for our current active daycare clients.
Gold Pampered Pup Boarding:
$74/day Private Suite
$94/day Deluxe Room Suite
Looking for a way to spoil your pup during their stay? We offer a GOLD PAMPER PACKAGE for only $10 more per dog, which includes a one-on-one playtime session as well a daily tuck-in snuggle session with a staff member. We also have other add-on services starting at only $3 to help customize your pups needs. Want your pup to have a spa treatment before returning home? Add an exit bath and ask about our seasonal specials! Please inform the front desk at drop-off for any services you want added.
View full pricing sheet
Requirements
A deposit is required at the time of reservation. Cancellations must be made 7 days or more in advance in order to refund the deposit, less a $10 processing fee.
All dogs must have a current dog license.

Your dog must be current on their DHLPP, Rabies, and Bordetella vaccinations. We will need a copy of your dog's rabies certificate.
Dogs must be current on a flea and tick preventative, not a flea collar.
You may not board your dog if they have a contagious illness, stitches, injury, or bandages.
Please fax or email your dogs vaccinations prior to any boarding reservations. We require a copy of their rabies certificate, and vaccinations of Bordetella and distemper (DHPP). Also, your dog must be on a flea prevention medication. The contract and owner information forms can be dowloaded and completed prior to your visit. Deposits for boarding may only be refunded (less a $10 processing fee) if cancelled more than 7 days prior to your reservation.
Information Form
2nd Dog Information Form
Contract
Our discounts for extended stays are as followed:
10 days or more – Free bath
15 days or more – 50% off add-on services, and a free bath
20 days or more – All of the above plus 10% off boarding rates.
Note: We do not accept any dog beds, cages, crates, blankets, bones, bowls, or toys. We will provide your dog with all beds, blankets, bowls, and toys during their stay. All you need to bring is food and medication (if applicable).
Our 12,000 square foot, state of the art facility provides a fun, safe, and energetic environment for dogs of all shapes and sizes. We are trained pet care specialists in a licensed and insured facility. Contact Fuzzy Butts at (610) 358-9822 for a free tour and to learn more about our amazing facility and deluxe services. Browse our website for more information regarding daycare services or grooming services.