Plenty of exercise, playtime, and socialization for your furry family members. Fuzzy Butts offers up to 12 hours of doggie daycare Monday- Friday and half days on Saturday and Sunday. Our experienced, compassionate staff provide continuous supervison in all areas. We utilize positive reinforcement to promote good doggie manners and provide enriching activities.
Your dog will love to romp around in our 4,000 square foot indoor playroom. Year-round climate-controlled playtime with frequent outside potty breaks in our fenced yard. We offer quality doggie daycare services and pride ourselves in always treating your dog like family. With our spacious indoor and outdoor facility, Fuzzy Butts is a great place for your dog to make new friends and exercise while you are away.
Socialization, Enrichment, and Exercise contribute to canine well-being, and may help reduce destructive behavior due to lack of exercise. Our facility offers a safe, fun, and controlled environment for dogs of all shapes and sizes. Groups are divided by size and temperament and daycare is always fully staffed. No reservation is required for daycare (after their evaluation).
Our daycare hours are as followed:
Monday – Friday: 7:00am – 7:00pm
Saturday: 8:00am – 2:00pm
Sunday: 10:00am – 4:00pm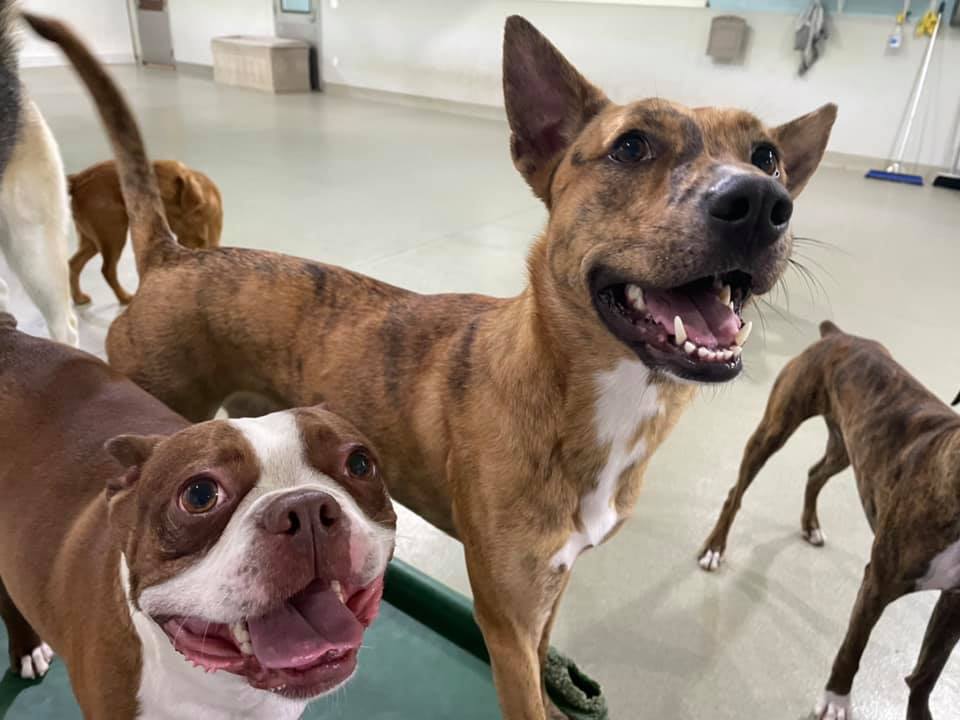 Enrollment Process
The first step to enroll your dog in our daycare is to complete the daycare application and email to [email protected] along with vaccination records. Completed forms and shot records must be received prior to scheduling a daycare evaluation. Each dog must undergo an evaluation by one of our certified staff members to ensure our environment is an appropriate one for your dog. Evaluations are done on Mondays – Wednesdays by appointment.
Enrollment Application
2nd Dog Enrollment Application
Contract
Requirements
We require updated Bordetella, Distemper, and a copy of their Rabies Certificate. Dogs must be spayed or neutered by their first birthday (or after first heat for females) to be allowed in the group play. We also require dogs to be on a flea preventative (flea collars not allowed in daycare). You may not enroll your dog if they have a contagious illness, stitches, injury, or bandages.
Once we receive their vaccines, we can schedule the evaluation for your pup to be introduced to the daycare. Evaluations are scheduled on a first come, first serve basis and the times will be given once we receive all their vaccines. We schedule evaluations Monday – Wednesday and require you to drop off between 7:00am – 7:30am so they can be slowly introduced to other active daycare dogs. We need your pup to stay for a least 3 hours to get acclimated and to see if they enjoy being in daycare. We recommend staying for a half day (up to 5 hours) for their first visit.
The first evaluation is the only time when daycare is scheduled. After that, your dog can come and go during our business hours. We ask that dogs stay active members of daycare by attending at least three times a month to keep them familiar with the staff and other dogs. If your dog does not stay active in daycare and meet the requirements, we will need to schedule another evaluation for daycare.
Pricing
Half-Days: $27
Half-day hours are 7AM-1PM OR 1PM-7PM
**Must be picked up by 1PM or dropped off after 1PM to qualify for a 1/2 day
Full-Days: $35
We also offer daycare packages at a discount!
* Dogs must attend daycare at least three times before purchasing a package. Packages are non-refundable and expire after 90 days of purchase.
Full day packages:
$34/ day (Save $5)
5 Days $170
$33/ day (Save $20)
10 Days $330
$32/day (Save $60)
20 Days $640
Half day packages:
$26/ half-day (Save $5)
5 days $130
$25/half-day (Save $20)
10 days $250
$24/ half day (save $60)
20 days $480
View full pricing sheet
Contact Fuzzy Butts at (610) 358-9822 to learn more about our amazing facility and deluxe services. Browse our website for more information regarding boarding or grooming services.